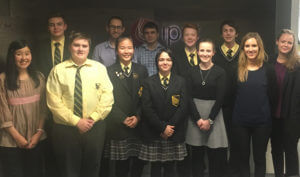 We were delighted to welcome a group of senior school students to our Melbourne office earlier this month as part of the Youth Experiential Learning Pathways (YELP) program, called ExperienceMe.
ExperienceMe has been developed by Simon Davidson of Employers Mutual to give students, particularly those from disadvantaged backgrounds, an insight into the employment opportunities and potential career pathways within the personal injury sector. As noted by Simon, many people who work within the Personal Injury sector 'fell into' the industry. The ExperienceMe program aims to promote the sector as a promising and interesting career pathway from much earlier on, at the outset of a student's career path.
Over the course of the day, the students spent time with a group of Melbourne workplace rehabilitation consultants. Learning what a typical day may entail, the students observed assessments and role plays, learnt some of the key principles of injury prevention and were informed about qualifications that are highly sought in the industry.
We look forward to the potential of meeting these students again one day as they become the next generation of IPARians!