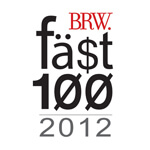 We are delighted to announce that for the second year running IPAR has been listed in the Business Review Weekly (BRW) Fast 100 List. The BRW Fast 100 ranks Australia's fastest growing companies, based on their average growth rate over the previous three years.
In the 2012 list announcement, IPAR has come in at position 60, with the same average growth rate that saw us listed in the 2011 Fast 100. In order to qualify for the list this year, the minimum average growth rate was 39%, the highest it has ever been.
"This achievement is a direct result of the hard work and dedication shown by our staff," says IPAR Managing Director, David Sagar.
"I am immensely proud that we continue to deliver the very best outcomes for our customers, which sees them continue to use our services again and again."