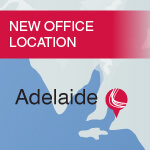 We are excited to announce our appointment by WorkCoverSA as a South Australian Scheme Workplace Rehabilitation Provider, commencing October 1st, 2013.
Our first South Australian office located in the Adelaide CBD opened its doors on the 1st of July. The office has been providing a full range of services to our Comcare and Life Insurance customers, as well as injury prevention services, assessments and OHS services to our employer customers. With our appointment to the South Australian Scheme, we will be providing pre-injury employer services, new employer services and restoration to the community services under the SA workers compensation scheme.
Our plans for expansion into regional South Australia also continue, with offices in Whyalla and Mt Gambier planned to open in 2014.
With our Adelaide office fully up and running our national footprint now covers South Australia, Victoria, New South Wales, Queensland and Western Australia, and makes us one of the largest providers in our industry.
For further details, please contact Brent Janetzki, SA State Manager, on 0439 468 096 or bjanetzki@ipar.com.au. Referrals can be made to rehab@ipar.com.au or complete the online referral form on this website.