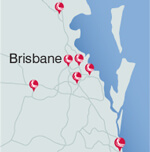 IPAR's Queensland office network has expanded once again with the announcement of new office locations in Brisbane, Ipswich and the Sunshine Coast.
In addition to our Brisbane head office located in Fortitude Valley, we are now able to provide services in Brisbane East (Murarrie), Brisbane South (Eight Mile Plains), and Redlands.
Our regional coverage has also increased with new offices in Ipswich and Caboolture to add to our presence in the Gold Coast and Townsville.
All office locations are detailed in the Locations page of this website. For Queensland referrals, please contact 07 3253 5000, email rehab@ipar.com.au or complete the online referral form on this website.