IPAR and Health and Safety Solutions are delighted to announce that on 30th September 2010 IPAR acquired Health and Safety Solutions.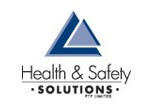 Health and Safety Solutions (HSS) has a 7 year history of providing tailored injury prevention, OHS, occupational rehabilitation and health care services to clients on in the Newcastle and Hunter areas and has recently expanded to the NSW mid coast.
The acquisition of HSS by IPAR significantly strengthens both businesses as it significantly enhances IPAR's NSW scale, geographical footprint and suite of services while also improving HSS' footprint to enable delivery of it's products and programs around Australia.