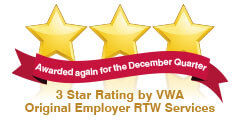 In the latest release of Star Ratings by the Victorian WorkCover Authority (VWA) IPAR has once again been awarded the highest possible 3 Star Rating for original employer services. We are one of only two providers (out of a total of 27) in Victoria to receive the top award, which is an independent measure of Return to Work performance.
This excellent result is particularly pleasing considering we have retained the 3 Star Rating for two consecutive quarters. Also noteworthy is that the 3 Star result was contributed to by all of IPAR's 9 Victorian branches, from Mildura to Morwell and all key regions in between.
IPAR's score is 13% above the scheme median result. This means that for every 100 referrals IPAR commenced, we returned 13 more people back to full time work than the scheme median – a real testament to the dedication of our people in achieving return to work outcomes.
To make a referral please go to the online referral page of this website or email details to rehab@ipar.com.au