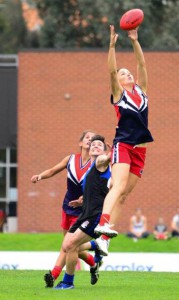 Melissa Hickey, Occupational Rehabilitation Specialist from IPAR Melbourne, has been selected for the Inaugural AFL Women's Game 2013.
Over 250 women aged 17 and above were nominated in the draft held on 15 May. Melissa was selected at pick 11, placing her amongst the 50 most elite players nationally. Melissa will be playing for the Melbourne Demons in a game against the Western Bulldogs on Saturday June 29th at the MCG.
Melissa has played AFL for 5 years, currently playing for Darebin Falcons in the position of Centre Half Back. We wish Melissa all the very best for June 29th – plenty of her IPAR workmates will be there to cheer her on!