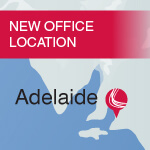 IPAR's national expansion continues at pace with the opening of our very first South Australian office located in the heart of the Adelaide CBD.
IPAR Adelaide will be under the management of long term IPAR team member, Brent Janetzki. Brent established our highly successful Mildura office and will now oversee the opening of Adelaide in his role as SA State Manager.
Services delivered from IPAR Adelaide include a full range of services to our Comcare and Life Insurance customers as well as a range of injury prevention services, assessments (ergonomic, task analysis, functional capacity, vocational etc) and OHS system development and implementation to our employer customers. We anticipate being able to provide services within the South Australian Workers compensation scheme after 1st October 2013.
For further details, please contact Brent Janetzki on 0439 468 096 or bjanetzki@ipar.com.au or referrals can be made to rehab@ipar.com.au.
IPAR Adelaide
Level 8, 182 Victoria Square
Adelaide SA 5000
Phone: 08 8100 5100
Fax: 08 8223 3905