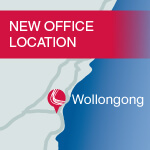 IPAR's expansion in New South Wales continues with the opening of our first Wollongong office. Located at the Synergy Business Centre, Level 1, 1 Burelli Street, IPAR Wollongong will be providing return to work and injury prevention services to the Wollongong and south coast area.
The addition of the Wollongong office takes our New South Wales office network to a total of nine.
Suzanne Gibson (Branch Manager Sydney/Wollongong) stated "it is wonderful to be able to add Wollongong to our NSW footprint, as it has been flagged for a few years at our Management Conference as being one of our geographic expansion priorities".
Referrals for Wollongong can be made to rehab@ipar.com.au or fax to 02 9687 6444.