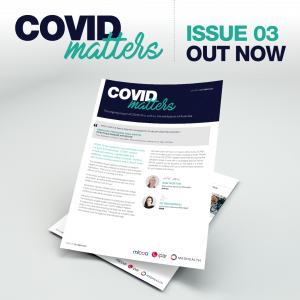 The latest edition of our COVID Matters newsletter sees IPAR once again partner with MedHealth and mlcoa to bring you 'bite size' summaries of some of the most pertinent research in the medical industry, and in particular what the experts are saying about COVID-19 and its ongoing impact in, and on, the workplaces of Australia.
COVID-19 has spread its many tentacles across our work and home lives. COVID 'matters' include vaccinations, mental health and resilience, workplace safety, home life, working from home, frontline workers and so much more.
There are so many potential topics of interest that we will focus on one area at a time. In this issue, we look at four interesting papers about vaccination. As with everything we do, we look at the evidence and lay it out for you.
Please view COVID Matters edition 03 here.
The next issue will focus on papers about Long COVID, which is emerging as a complex workplace issue. Please let us know the COVID-related issues that are having the greatest impact in your job or workplace and we would love to support you by focusing on the issue in a future newsletter or working with you to find the best solutions for your people and clients.
Your COVID coverage
As medical, allied health and occupational health and rehabilitation specialists, the teams at IPAR and mlcoa already provide the types of services that support Australian businesses to make informed decisions and reduce risks, all while improving health and employment outcomes for people.
Please talk with us about the issues you are managing. We'll either have a service that can support you and your people; or we'll draw on our diverse capabilities to help you solve any issues and create better outcomes.