As the largest provider of occupational health and rehabilitation services in Australia, we provide an essential service to people, their employers and the compensation or employment schemes that assist them to recover and return to work and wellbeing. Over the course of the COVID-19 pandemic, we have continued to support our customers and clients with services for physical, mental and organisational health.
With the early engagement of an expert medical panel from our parent company, MedHealth, we adopted strict protocols to safeguard our people and our clients while maintaining business as usual. In addition, we have utilised alternate delivery methods and new COVID-specific content to ensure a seamless continuation of relevant, timely and high quality services.
COVID Matters newsletter
IPAR has partnered with MedHealth and mlcoa to produce COVID Matters, highlighting 'bite size' summaries of some of the most pertinent research in the medical industry, and in particular what the experts are saying about COVID-19 and its ongoing impact in, and on, the workplaces of Australia. COVID Matters helps us all stay across what matters in relation to COVID-19.
New service: COVID Support with mlcoa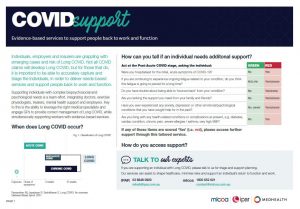 Individuals, employers and insurers are grappling with emerging cases and risk of Long COVID. Not all COVID claims will develop Long COVID, but for those that do, it is important to be able to accurately capture and triage the individuals, in order to deliver needs-based health and return to work support.
Supporting individuals with complex biopsychosocial and psychological needs is a team effort, integrating doctors, exercise physiologists, treaters, mental health support and employers. To this end, IPAR has worked with mlcoa to develop a suite of COVID Support services to shape healthcare, minimise risks and support an individual with Long COVID to return to work and function.
One component of the COVID Support services is a new Positivum™ assessment and health coaching program designed specifically for individuals with symptoms of Long COVID.
Positivum™ COVID Asssessment
This assessment measures a variety of psychosocial factors that may increase the risk of Post Acute COVID Syndrome (PACS). It obtains a measure of baseline function, informs the level and type of ongoing engagement, and identifies key psychosocial barriers to participating in relevant interventions and services. The assessment measures:
Recovery expectations
Health and work beliefs
Employer perceptions
Illness perceptions
Fatigue
Daily functioning
Barriers to daily activities
Coping skills
Low scores in the assessment signify a 'yellow flag' for that particular psychosocial domain and are indicative that extra support may be needed to improve prognosis. Importantly, the assessment can be easily repeated at key rehabilitation stages to provide an indication of progress and change.
Positivum™ COVID Health Coaching
This evidence-based online health coaching program has been specifically designed by MedHealth and Monash University to support people post COVID diagnosis. Integrated into rehabilitation services and delivered by IPAR Allied Health professionals, the program content is continually reviewed and updated with emerging COVID literature and evidence.
Created with behavioural insights and adult learning principles, health coaching modules are tailored to the individual client's needs. Content includes:
Tackling unhelpful illness beliefs and perceptions
Work and functional goal setting
Living with a COVID diagnosis
Fatigue and pain management
Worker and employer perceptions
For further information on IPAR's Positivum™ COVID Support program, please contact your nearest IPAR office or email rehab@ipar.com.au.

ASSESSMENTS AND CASE MANAGEMENT
Our 50+ offices across Australia remain open. Face-to-face services are supported by virtal assessments and case management conducted via secure tele and video conferencing.

ONLINE CAPACITY BUILDING HEALTH COACHING
Easily accessible, self-paced online health coaching modules to build capacity, health and wellbeing via education and empowerment.

HOME ERGONOMICS
One-on-one home ergonomic assessments or virtual team training to assist your people to create safe working environments at home.

WORKFORCE MANUAL HANDLING TRAINING
Individual and group training of risk factors, the body's core strength, plus simple principles to stay safe and strong, delivered via video conferencing, webinar and e-learning.

STRATEGIES FOR WORKING FROM HOME
Supporting people to develop healthy routines including diet, exercise and sleep to manage health, wellness and productivity at home.

SUPPORT TO MANAGE INJURIES AT HOME
Through face-to-face or virtual technology we can complete ADL assessments to ensure clients are safely supported in their own home.

HEALTHY MIND VIDEO SERIES
A series exploring mental health and workplace stress, providing helpful strategies to address stigma, handle conflict and manage conversations with colleagues and leaders.

RESILIENCE TRAINING 
A virtual training session, providing practical strategies to support people and build resilience in the time of COVID-19, customised to the specific needs of the organisation and industry.

EMPLOYEE HEALTH & WELLNESS CHECKS
Taking care of your most important asset, your people, in the time of COVID-19. Regular contact from allied health professionals to check and support both physical and mental health.
Organisational Health Services

VIRTUAL WORKPLACE MEDIATION
Confidential and independent mediation held via video conferencing to facilitate communication between parties in dispute, assisting them in developing mutually acceptable agreements.

CAREER TRANSITION SERVICES
Holistic support to address biopsychosocial barriers, improve job seeking skills, adopt the right mindset for success and confidently transition into new and lasting employment.

MANAGING TEAMS THROUGH CHANGE
A webinar training session that supports and engages people and teams through change and restructure. Includes the principles of change, managing risk and adapting to the new normal.