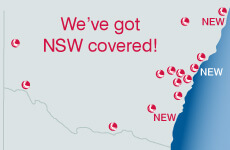 IPAR's New South Wales geographic coverage has expanded once again with new office locations in Coffs Harbour and the Central Coast.
Both offices were identified as key expansion sites for IPAR, improving our ability to service customers in these important regional centres. The offices will be staffed by local Rehabilitation Consultants, supported by our extensive New South Wales and national management teams.
Ben O'Neill, General Manager – South East Australia stated "we are delighted to add the Central Coast and Coffs Harbour to our expanding New South Wales footprint. We have been fortunate to bring on board strong, experienced managers in each of these locations, which were identified by our customers as geographic priorities to enable continued, cost effective service delivery."
The offices will be providing the full suite of IPAR services, from injury prevention to injury management and return to work services.
Contact details for the new Coffs Harbour and Central Coast offices are detailed in the locations page of this website. For New South Wales referrals, please email rehab@ipar.com.au or complete our online referral form.