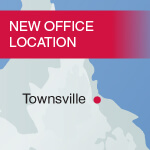 IPAR is delighted to announce the opening of our first office in regional Queensland, with IPAR Townsville now open for business.
IPAR Townsville will provide a full suite of injury prevention, occupational rehabilitation and return to work services to customers south to Mackay and north to Cairns.
Contact details for IPAR Townsville are as follows:
Suite 2001, Level 2,
Suncorp Tower
61-73 Sturt St, Townsville 4810
Phone: 07 4771 6465
Fax: 07 3112 4099
Referrals can be emailed to rehab@ipar.com.au or complete the online referral form on this website.