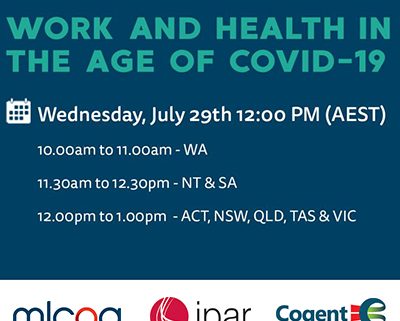 Workplaces across Australia and the world have been impacted by COVID-19. Many people have had to quickly shift to working remotely. Others in essential services remained at work following strict protocols to ensure everyone's safety. And a large segment of the workforce have experienced a reduction in their employment or have been stood down from their position.
Experts from mlcoa, IPAR and Cogent Thinking have come together to present a free webinar – Work and Health in the Age of COVID-19. The webinar will explore how the global pandemic has affected our health and wellbeing, whether we are fit to return to work as we knew it, or have we and our workplaces changed for the foreseeable future.
This interactive panel discussion will be presented by Dr Kevin O'Daly, Psychiatrist from mlcoa, with guest speakers Josephine Piccolo, Occupational Psychologist from IPAR, and Alistair Jackson, Customer Experience Specialist from Cogent Thinking. These experts will provide their insights on COVID-19's impact on individuals and the workplace, plus share strategies on how to look after yourselves, and support your teams and the cases you are managing through these unprecedented times.
There will be the opportunity to ask questions throughout the session, or you can submit a query beforehand via the webinar registration page. We look forward to you joining us.
Work and Health in the Age of COVID-19
Date: Wednesday, 29 July 2020
Time:
12.00pm to 1.00pm     – Australian Capital Territory, New South Wales, Queensland, Tasmania & Victoria
11.30am to 12.30pm    – Northern Territory & South Australia
10.00am to 11.00am    – Western Australia
To register: please click here